Important notice
Main building has been closed temporarily due to the earthquake of Sep 6.
We apologize for the inconvenience.
We'll let you know on this web sight when we see the light at the reopen of Main building.
Thank you for your understanding.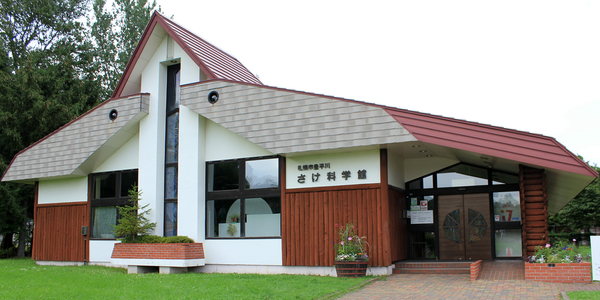 Information on the museum
Address 2-1, Makomanai koen, Minami-ku, Sapporo 005-0017
Phone +81-11-582-7555
Hours : 9:15-16:45
Admission : free
Closed : Mondays (If the Monday is a national holiday, the museum is closed on the following business day) and New Year holidays (Dec,29-Jan,3)
By public transport : a four-minute walk from the Makomanai Kyogijo-mae bus stop the Jotetsu Bus Minami 90, Minami 95-98 or Kan 96, which can be taken from Makomanai Station on the Nanboku Subway Line.
By car : take National Route 230 (Ishiyama-dori Street) from downtown Sapporo to Jozankei and turn left at Gorin-dori Street (approx,25 min.)
Parking : charged on Saturdays, Sundays and national holidays from April 29 to November 3; 320 yen for cars, 660 yen for buses and 210 yen for motorcycles; not charged on weekdays and during the winter season (Nov.4-Apr.28)
Attractions
Main building
Visitors can learn all about salmon through dioramas of spawning salmon, videos, books and other exhibitions at Exhibition Hall. In Autumn, visitors can observe artificial fertilization process at Spawning and Hatching Room. From fry to adult, many kinds of salmonid fish are displayed at Education Display Room and Underground Observation Room. In the season of hatching, visitors can see salmon eggs with eyes.
Outdoor Observation Pond
Visitors can experience feeding salmonid fish. Especially, the bite of Sakhalin taimen is very powerful and worth to watching.
Fish House
Visitors can see fish as gobies, sticklebacks, and others in the Toyohira River. Besides fish, there are amphibians and reptiles around Sapporo at Fish House.